Goddess Worship, Matriarchy, Gynarchy, And Female Supremacy Reborn
Aug. 18th, 2010
New Project Announcement: The very first test batch of t-shirts featuring the official www.churchofmalice.com design shown above have finally arrived but look forward to even more originally created malicious designz in the very near future. Twenty five of these shirts are now available for sale so if you wish to own one of these limited edition t-shirts then this is your chance. Click the example photo above to buy one now!
PS: AVAILABLE IN SIZES - SMALL : MEDIUM : LARGE : 1X : 2X : 3X
May. 6th, 2010
Published By Guy Adams May 6th 2010
A Baptist minister who is one of America's leading opponents of gay rights, and who believes that homosexuality is a mental disorder that can be "cured", found himself with some serious explaining to do yesterday after he was photographed at Miami airport with a male prostitute he had hired to join him on a European holiday. George Alan Rekers, a middle-aged co-founder of the right-wing Family Research Council, admitted taking the 20-year-old on a 10-day trip to London and Madrid in March. Rekers met the sex worker on the website www.rentboy.com, where he appears under the alias "Lucien" and claims to be "sensual," "wild" and "up for anything".
Rekers, who has appeared as an expert witness in court cases challenging gay adoption, denied having sex with his travelling companion. He had hired Lucien to help carry his luggage, he told reporters, and only found out that he was a prostitute halfway through the trip. "I had surgery and I can't lift luggage," Rekers told the Miami New Times. "That's why I hired him." He declined to say why he had secured bag-carrying services through www.rentboy.com. Rekers also neglected to explain what had drawn him to Lucien, who has long blond hair and appears topless in photographs on the website. Perhaps it was the young man's interesting range of hobbies, which are listed as: "vanilla, leather, shaving, spanking, role-play and go-go dancing".
Rekers, a committed Christian, has frequently been quoted condemning homosexuality in local newspapers. He is also a board member of two well-funded lobbying organisations that run high-profile campaigns against equality for gays and lesbians. Quite what view those groups will now take on his lifestyle remains to be seen. Rekers often travels to Europe and the Middle East to lecture on sexuality, but the lengthy trip where he was accompanied by Lucien did not include any official engagements.
Updated Information On This Story
The escort now says Rekers is indeed gay, and that Rekers paid him to perform daily nude body rubs during their European jaunt. "It's a situation where he's going against homosexuality when he is a homosexual," the young man told the New Times, adding that Rekers -- who repeatedly asked for a move he dubbed "The Long Stroke" -- ought to divorce himself from his many anti-gay associations.
Not to worry, Rekers told the Miami New Times, which broke the story: He claims he learned his 20-year-old companion was a prostitute only midway through their trip, they had no intimate contact, and he hired the young man only because recent surgery means "I can't lift luggage."
This seems highly dubious, because it would be extremely difficult to accidentally stumble upon the Rentboy.com homepage, which features young well-muscled men rubbing each other's crotches on grainy video loops, and not figure out what the site means by "rent boy."
Speaking of video here are some links to some video footage that
can be found on youtube.com for your amusement seeking pleasure!
http://www.youtube.com/watch?v=sAiIXb9Aql0
http://www.youtube.com/watch?v=ztYqgyqh7rM
http://www.youtube.com/watch?v=cxtNWZgR39c
http://www.youtube.com/watch?v=LYDlXfaivD4
Apr. 16th, 2009
These guys visit the same youth pastor who slipped up during his sermon
disguised as FCC agents who are there to deliver a $50,000 fine and shut
down the church. He falls for it pretty hard. If you're wondering what
I'm talking about watch the video I posted on October 28th 2008!
Oct. 23rd, 2008
Jun. 24th, 2008

BY KEITH BAKER OF ABC NEWS
Whether his name is a blessing or curse the man named God Lucky Howard was arrested by undercover detectives for selling cocaine in his neighborhood. If the delivery of cocaine charge isn't enough Howard is charged with the delivery of cocaine near a church, a school and public housing near North Avon Avenue in Tampa. After obtaining a warrant Police searched Howard's home and found an additional 22 grams of cocaine and a scale. The investigation began toward the end of April and led to Howard's arrest Saturday.

Howard remains in jail on $86,500 bond.
Apr. 5th, 2008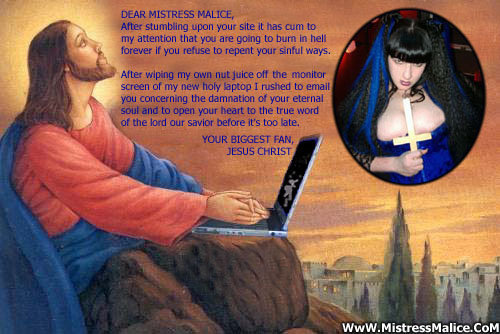 I woke up this morning severely hungover from celebrating Sarah Lynn's birthday last night. Obviously throbbing temples and that slightly nauseous feeling was not punishment enough for last night's gluttonous drinking binge. As if things couldn't be any worse, I woke up with My tequila and vodka flavored tongue glued to the roof of My mouth and I could not rush to the bathroom to solve this issue like I normally would because I got Sarah so drunk that she ended her birthday in My bathroom doing a damn good imitation of Linda Blair projectile vomiting in the exorcist. Yes ladies and gentlemen, Sarah was so slushed that she blew chunks all over the entire fucking bathroom before vanishing to her bedroom to pass out cold! Hahaha! Unfortunately she also happened to hurl all over My kickass Halloween toothbrush holder which held the only tools that could possibly remove the fur coat My tongue created while I was sleeping. Fuck! After sending Sarah to the store to replace My toothbrushes and some of the other items she puked all over, I decided to check My email while I waited for her to return and since My day obviously wasn't already shitty enough, the first email I opened is one of those bleeding heart christian emails informing Me that I'm going to burn in hell forever for all of My sadistic sins if I do not repent immediately and offer My blackened soul to Jesus Christ. Oh Lord Fuck Me Jesus, now My morning officially fucking sucks and I'm going to hell too!
My initial response was to write this loser lamb of god back and simply tell them to fuck off and die but since first opening their email I have received My new toothbrush and a hundred apologies from Sarah Lynn so I'm in a much better mood then I was when I first woke up. After finally brushing away the taste of last night's drunken debauchery and popping some motrin I almost feel human again. So instead of just going off on you moronic christian fucks I have decided to offer you some comfort by proving to you that god wants you to be My slave. Below you will find a few verses from the bible that should put your feeble minds at rest the next time you find yourself awake all night agonizing over the damnation of My eternal soul.

Biblical Proof That God Wants You To Be My Slave...

(Colossians 3:22) – "Slaves, obey your earthly masters in everything; and do it, not only when their eye is on you and to curry their favor, but with sincerity of heart and reverence. "

(Ephesians 6:5) – "Slaves, obey your earthly masters with fear and trembling, with a sincere heart, as you would Christ."

(1 Peter 2:18) – "Slaves, submit yourselves to your masters with all respect, not only to those who are good and considerate, but also to those who are harsh."
Current Mood:
hungover
Nov. 13th, 2007
The Church website has been slightly updated today and more
updates will follow in the upcoming weeks! - Reverend Malice
Current Mood:
accomplished
May. 24th, 2007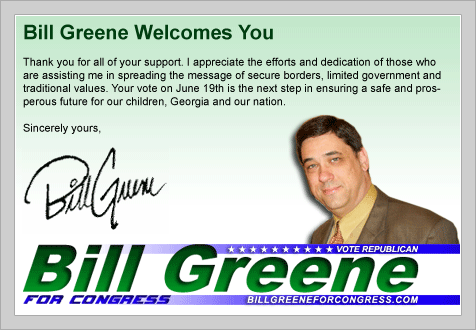 It would seem that My original guess was correct and the gestapos that run Bill Greene's Myspace page did indeed take My comment down. So I decided to exercise My freedom of speech and posted it once more. Literally within five minutes of posting My comment for the second time they deleted My comment once more. They also deleted Me as a friend so that I could not post My comment again in the future. It's nice to see that My lack of faith in the republican party has been restored. He was completely terrified when he read the truth of My words and feared being exposed for the nazi right winger that he really is. Not only does he seek to censor the public's right to religion but it would also seem that freedom of speech is another right that he seeks to destroy as well. By deleting My comment he proved to Myself and the public in general that he is indeed scared to be held accountable for his closed minded conservative stand on the issues that really matter. He has no respect for the opinion of the public whose support he seeks and he also has no respect for the freedoms that many good women and men have died to secure. He is obviously just another politician looking to line his pockets off of the sweat and tears of our wonderful country. He must have learned his political values by reading "Politics For Dummies" by George Bush!
May. 23rd, 2007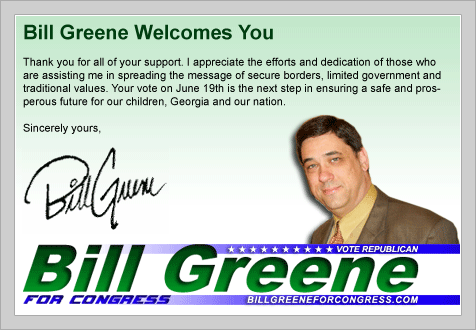 I just received an add invite on Myspace requesting that I add this year's conservative republican candidate for congress Bill Greene to My page. I added him alright but only so I could give him a piece of My mind about the issues that he supports. We have a bet within the household now to see exactly how long it will take for My comment to be deleted. I posted My comment only seconds ago but I imagine it will be taken down very shortly, so I am posting a copy of My comment here in My journal as well.
---
Copy Of My Comment...
The first question I asked Myself as I read this candidate's profile is what in the world made him think I am republican or even remotely conservative for that matter?
As I read over the issues he stands for I found Myself thinking that the last thing we need is a miniature of George Bush in local Georgia government. This country was founded on freedom yet these closed minded right wing republicans attempt to tear down the very freedoms that our country has fought so long and hard to establish. Freedom of religion is one of the first rights these bible thumping politicians attempt to destroy. Take their stand against gay marriages for example. Only according to the majority of christian republicans is homosexuality considered a sin. Within my own legally recognized faith of wicca/paganism love is celebrated in all forms. So by taking away the right for gay couples to marry you are also infringing your own beliefs upon those who follow different faiths and different paths. Who gives you the right to shove your christian politics down our throats? Would you like it if we started shoving our beliefs down your throats?
As I go through each issue I only find one that I even support which is his stand on illegal immigration, but agreement on one issue is not enough for me to live under the strict beliefs of a neo-nazi tyrant.
For those of you who actually live in the Commerce, Georgia area that are uninformed please click the link below and take the time to read his issue statement completely before casting your ballad.
http://billgreeneforcongress.com/issues.php
Jan. 4th, 2007
Residents See Jesus Image In Tree
JACKSONVILLE, Fla. -- Man-made religious decorations are a common sight at this time of year, but the image on a tree in an Arlington man's front yard is natural and some neighbors have begun calling it a holy tree, according to a WJXT-TV report. Neighbors near Daryl Brown's Arlington home said a tree in his yard bears the image of Jesus. The likeness has created a buzz in the neighborhood and has many residents at a loss for words. "I see the face, eyes, and you can see the crown," said one neighbor. "I can't say what I feel, I just feel it," said another neighbor.
The image was discovered a week before Christmas by a woman walking her dog, the report said. Overjoyed by what she saw, the woman shared the news with her neighbor. "Nancy said, 'Would you like to see something? Just make sure you see it. I don't want to have to show it to you first," Brown said. Brown recently moved to Arlington from Texas. He said the tree has given him and his family comfort as a symbol that everything is going to be OK in their new home. "It's a blessing for me just coming to town, getting introduced and meeting new people out here ... When she showed me that, I said, 'OK, there is a Jesus.'" Brown said.
Similar to other cases of similar sightings, there will be skeptics. However, Brown said no skeptic could convince him the image is anything but Jesus Christ. "Jesus don't just pop up like that. If you know the word of Jesus and you believe in Jesus, then there you go. He does exist," Brown said.
The woman who discovered the image told WJXT-TV that she moved to the neighborhood after she retired to find some peace and quiet, but that she did not realize she would find Jesus. She said every time she walks her dog she is comforted knowing Jesus is watching over her.
Navigate: (Previous 10 Entries)